January 6, 2016   Scott Stone
Is the glass half empty or half full? It's an age old question, and there's no right answer; it's all about perspective.
How about this question: Does the U.S. manufacturing industry have challenges or opportunities? Once again, there's no right answer; it's all about perspective.
American manufacturing stands at a critical point in its long history – and how industry leaders view the changing landscape will influence its future. As technology, demographics, and economic climate shift, manufacturers must innovate in order to stay competitive. Manufacturing in particular is positioned for domestic growth and, more than ever, industry leaders must guide their organizations strategically.
Let's take a look at some of the issues facing the industry through the lens of both challenges and opportunities:
1. Manufacturing Skills Gap 

Challenge: Over the past several years, the skills gap has been top of mind for U.S. manufacturers. In Accenture's 2014 Manufacturing Skills and Training Study, more than 75 percent of manufacturing respondents reported a shortage of skilled workers, particularly in positions requiring more than a high school diploma, but less than a four-year college degree.
This issue isn't going anywhere—it's probably going to get worse over the next decade. Research from the Manufacturing Institute and Deloitte predicts there could be as many as 2 million unfilled manufacturing jobs by 2025, up from initial estimates of 600,000. Baby Boomers are aging and retiring and there are simply not enough skilled workers to fill the positions they're leaving.
Manufacturers are challenged to find a solution to keep up with demand and are turning to automation, developing partnerships with local trade schools and colleges, and implementing in-house mentoring and internship programs.
Opportunity: One thing is for certain: Manufacturers can no longer afford to think about their systems, processes, and labor force in the same way. It's time to innovate and figure out new (better!) ways of getting the job done. Whether it's optimizing the production line, balancing work flows and labor, or incorporating new technology, it's an opportunity to build the future of not only an organization, but the industry as a whole.
As individuals and as a collective, there is the prospect of bringing up a new generation of highly-skilled workers. Creating a pipeline of talent, arming them with the right skills, and focusing on the latest technology, that's how the manufacturing industry will turn this challenge into an opportunity.
Consider this: The Millennial generation is more than 77 million strong. With proper training programs and recruitment efforts in place, this generation can help usher in a new era in the manufacturing industry.
An article by two Accenture researchers maps out a clear four-step plan for developing the talent the industry sorely needs: 1) Identify talent needs; 2) Build a talent pipeline; 3) Develop talent pool relationships; and 4) Reinvigorate talent development (i.e. in-house training, internships, and apprenticeships).
It's only through a proactive effort that the manufacturing industry will seize the opportunity – and overcome the challenge – presented by the skills gap.
Internet of Things
Challenge: Internet-enabled machines are here and they are powerful. The Internet of Things, or IoT, has the ability to transform the manufacturing industry, if these smart machines are implemented both strategically and with purpose – and therein lies the challenge.
A recent survey of manufacturing companies showed more than 80 percent already deployed IoT devices or were implementing them in the next year. However, many of these smart devices haven't reached their full potential. Systems need to be in place to harness this information, analyze it, and translate it into actionable changes.
Opportunity: It's possible to have visibility into every step of the manufacturing process. A truly connected production line has data points throughout the warehouse and together they create an extraordinary volume of information.
To thrive in this new data-rich era, manufacturers need to improve data mining from the plant floor. With the right data and analytics in place, manufacturers can make faster, better decisions based on real-time information rather than assumptions or prior experience.
According to a study by General Electric on the impacts of the industrial Internet and Internet of Things, researchers said as technology improves it will mature from enabling proactive actions to developing predictive insights.
Robotics & Automation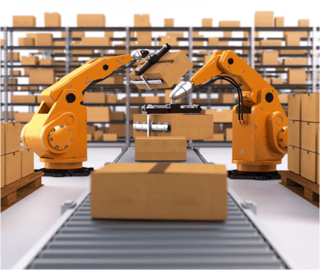 Challenge: Humans working alongside robots is not the future of the manufacturing industry, it's the here and now. They're not a luxury either; they are a competitive advantage. Properly integrated automation has the ability to transform a plant for the better.
Automation and robotics are being leveraged to battle two major challenges facing the U.S. manufacturing industry: competition from companies overseas and the skills gap. As robotics gets more advanced, it's also getting more affordable.
The challenges lie in finding the right areas to incorporate robotics or, perhaps, making the initial decision to invest in the technology.
Opportunity: Robotics, conveyors, and machinery can see better and think better than ever before. Paired with smart software systems, these new technologies are making it easier to find efficiencies, assign labor, and balance different elements of the complex systems.
While still a capital investment, robotics can now do more than ever, and there are systems available that are affordable for small- and medium-sized operations. Areas of repetitive actions (i.e. palletizing, picking, packaging) are ideal roles for today's robots, especially in high-volume plants.
Robotics is poised to influence the industry for many years to come: According to Boston Consulting Group research, spending on robotics worldwide will quadruple from approximately $15 billion in 2010 to about $67 billion by 2025. The industrial sector will grow at the fastest rate – from $5.8 billion to $24.4 billion. Incorporating robotics will be a fundamental piece in the future of U.S. manufacturing.
Final Thoughts
The U.S. manufacturing industry is facing unprecedented challenges, but there is a bright future ahead. Like we said at the start, it's all about perspective. Through ingenuity, agility, and technology, the U.S. manufacturing industry will be able to overcome its challenges and seize its opportunities and usher in a new era for manufacturing.
What's do you think are the industry's biggest challenges and opportunities?